Workshop theme: Sustainable study tour in Auroville
Organization: KC High International School, Chennai
No of participants: 28
Age Group: 13-15
Duration: 2 days
Period: April 2023
Purpose:
To introduce the students to Auroville's sustainability practices and community living. The workshop was tailored to encourage creativity and physical activity.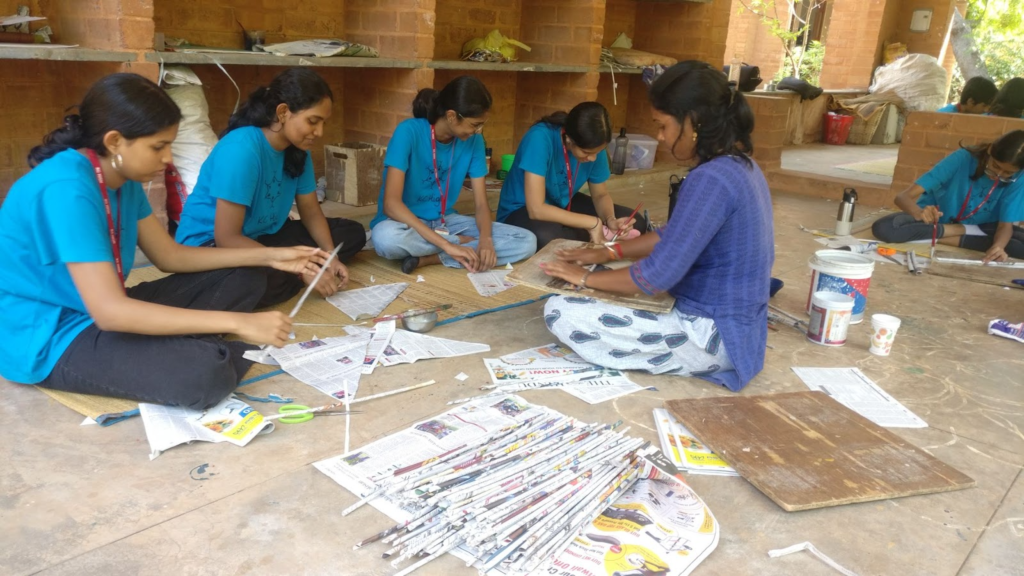 Making handicrafts from newspapers.
Sessions:
This workshop provided a unique opportunity for students to learn about sustainable living and experience community living firsthand. The sessions included an introduction to Auroville followed by hands-on experience of working with recycled materials, primarily paper. The exercise demanded concentration and focus to create products out of waste paper that increased its life span and was useful as well. Students made small baskets, coasters and decorative bowls.
Experiencing farming first hand exposed the children to physical work. They dug the earth and planted saplings in their respective garden beds.
The Joy of Impermanence (JOI) community aims at creating spaces that support spiritual community life based on impermanence and sustainability in Auroville. Learnings included an eco-friendly approach to community life supporting spiritual life, sustainability, continuous learning and progress. Students learnt the importance of how one can live a life of detachment but at the same time create wonders around oneself without being affected by the external changes.
Few students also attended an integral music session in Auroville which proved to be a unique and fascinating experience for those present. The students had the opportunity to learn from Shanks, a talented Music Producer and Performing Musician. They explored various genres of music by replicating rhythms and chords on a grand piano. Not only were the attending students enthralled, but the faculty was also highly impressed with the session.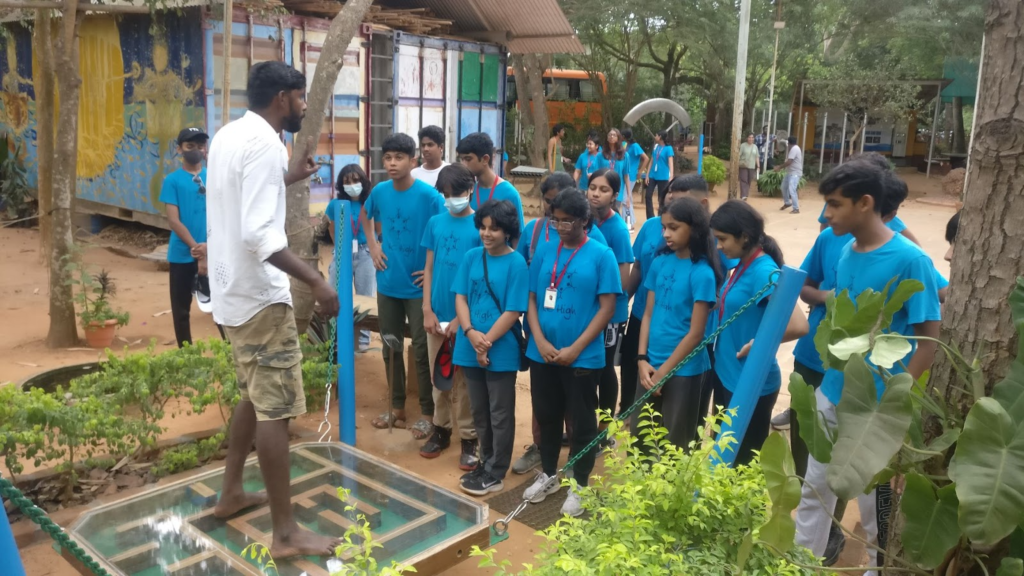 Exploring the Swaram sound garden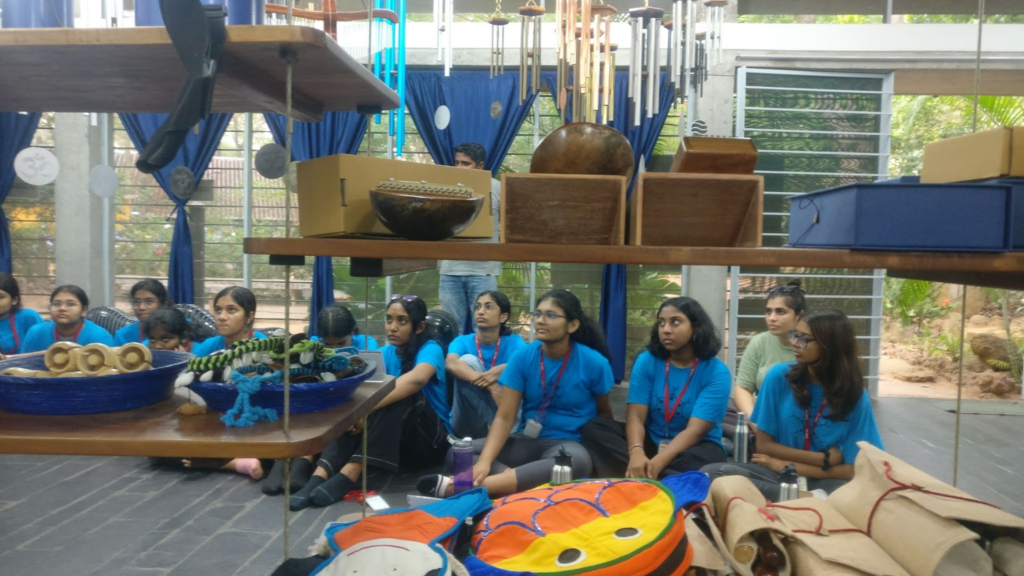 Students get a session on various instruments.
Summary
The workshop was a unique experience for the children where their head, hearts and hands aligned. At one level they understood the nuances and benefits of a community life and its impact on sustainability, on the other they learnt about the vibrational effects of sound on human beings and also composed music. The visit also helped them to connect with the earth through their farm work and taught them the importance of upcycling and women entrepreneurship. These activity based workshops are essential to inspire children and help them make informed choices that will shape their future.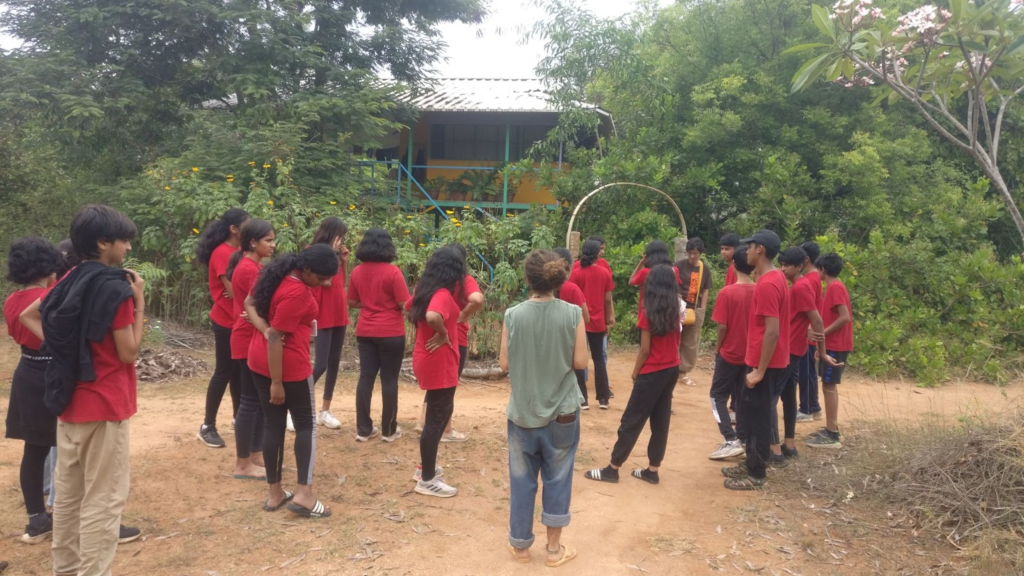 Exploring Anitya Community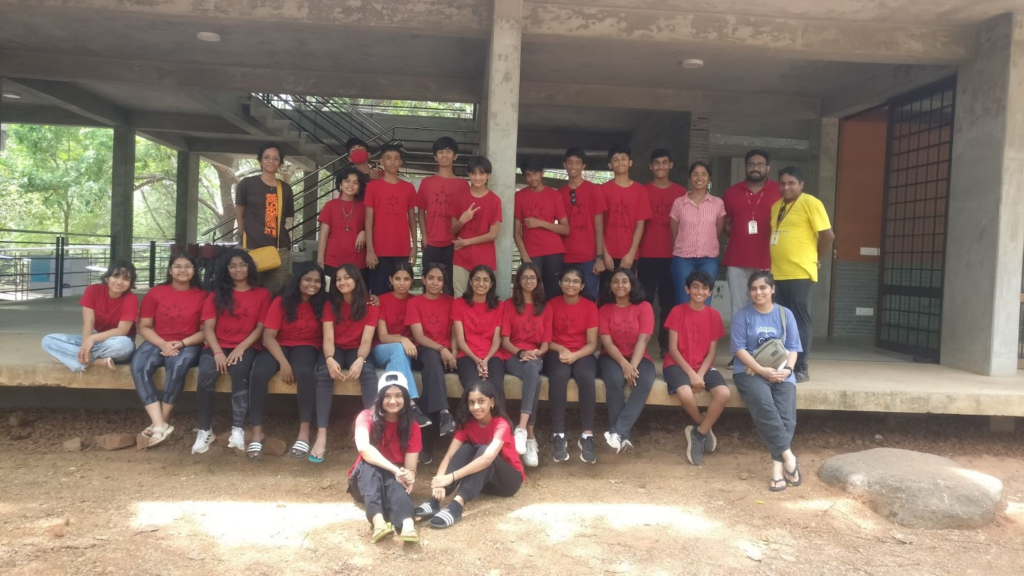 Happy faces after the workshop!